We often receive complaints by lawyers about the behaviour of other lawyers who they engage with in the course of legal practice. Some of the issues raised in these complaints do not warrant our intervention and/or raise issues that could or should have been resolved between the lawyers directly.
We have outlined below the types of complaints we may investigate and those we are unlikely to consider. Please read the full operational guideline for detailed information on complaints by lawyers about lawyers here.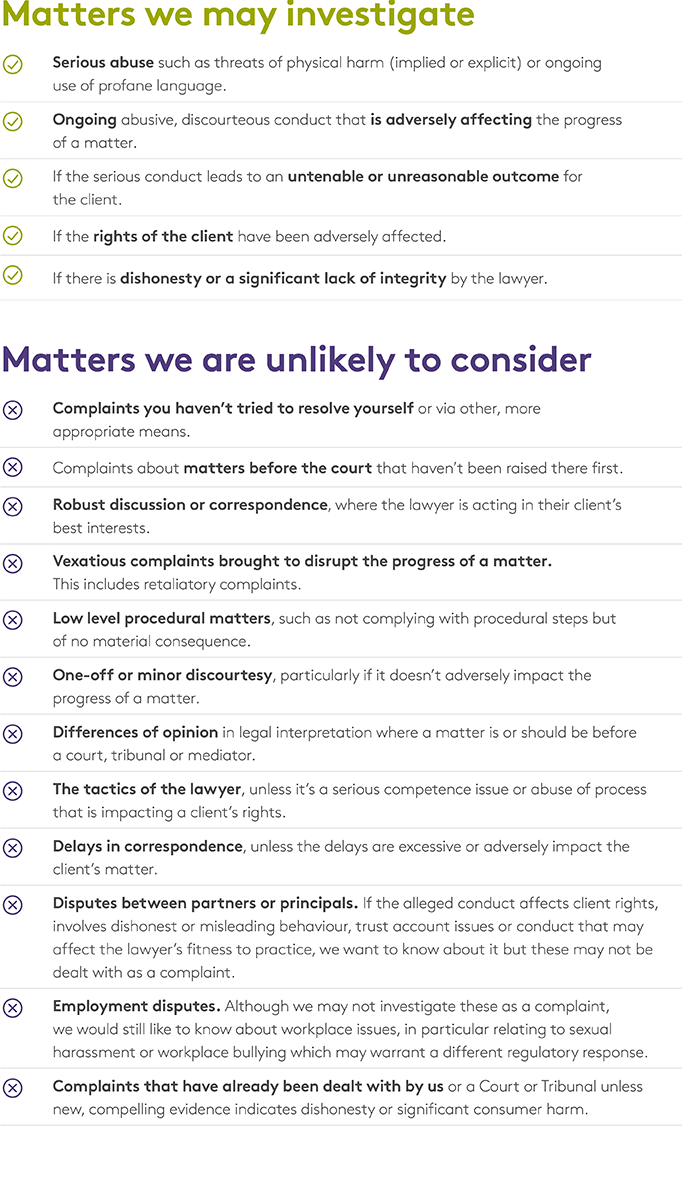 What you should do
Think about the desired outcome you are trying to achieve.
Attempt to resolve the dispute with the lawyer yourself first. Talk to the lawyer about the issue.
Consider changing how you communicate with the lawyer.
If you are worried about the lawyer's wellbeing you can refer them to the LIV or Victorian Bar for support
Remember, we don't need to know about it:

if the lawyer apologises and changes their behaviour
if the conduct is a once-off incident, or didn't cause harm to your client.
Where you can get help
The Guidance does not provide information about the mandatory reporting of suspected misconduct of lawyers to the Commissioner – a recommendation of the Royal Commission into the Management of Police Informants that is currently being progressed by the Victorian Government. We will develop separate guidance for the profession on mandatory reporting, ahead of its legislative enactment.