Grants Program Outcomes
Keeping Women Out of the Justice System, 2019
In 2017, we identified Keeping Women Out of the Justice System (KWOJS) as a priority funding theme. We allocated almost $2 million to three innovative projects with the following aims:
reduce women's encounters with the justice system
reduce the factors driving growth in the women's prison population
reduce women's incarceration and recidivism rates Provide models for reform.
Keeping Women Out of the Justice System Year One Report
Celebrating 10 Years, 2007-2017
Learn about the Grants Program and how it's influencing policy and reform and changing lives through this 11 page report. Also read about some of the Award-winning Projects that we have funded.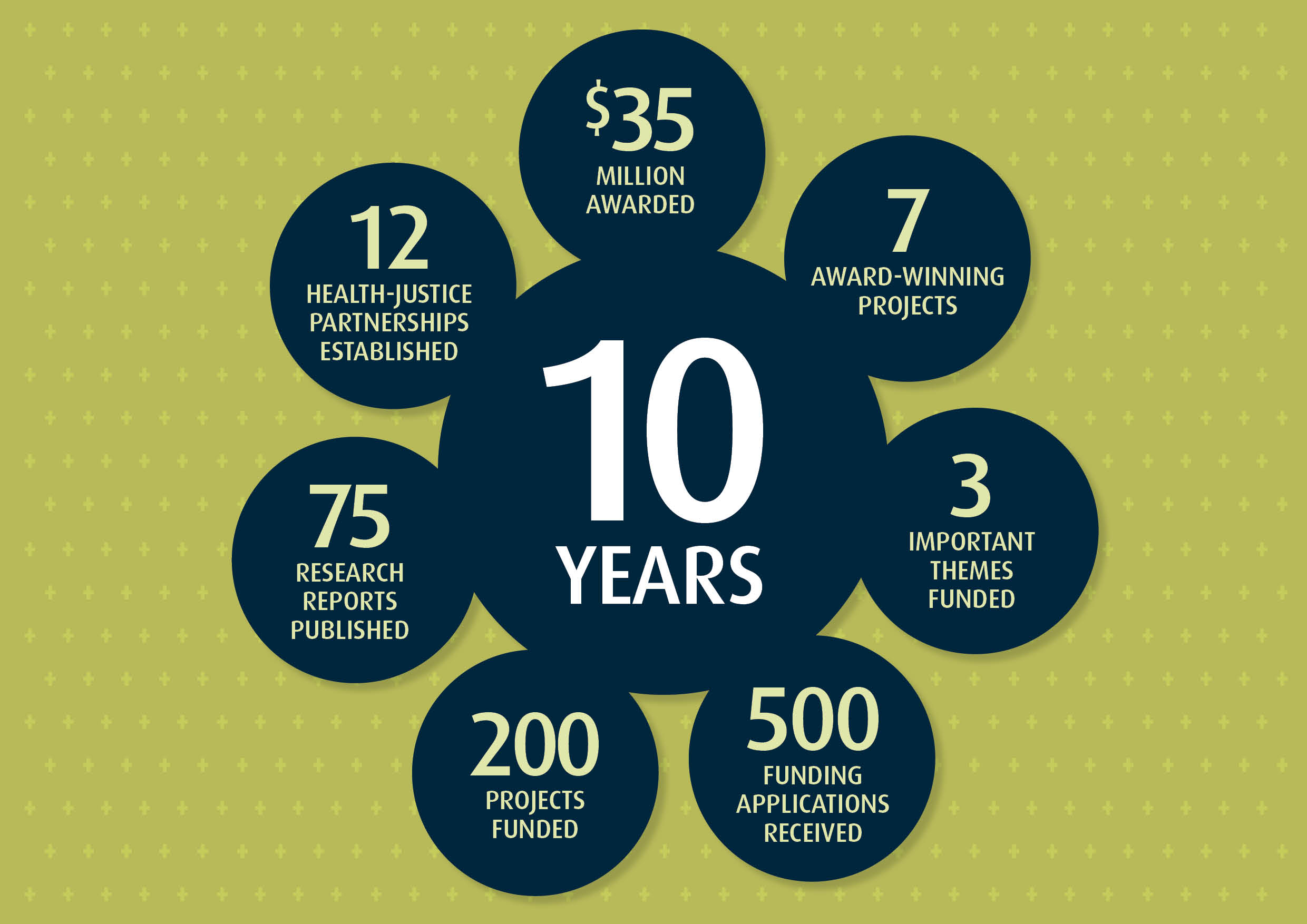 Health-Justice Partnership Development, 2016
Health Justice Partnerships (or HJPs) integrate legal assistance as an integral element of the health care team. They require the development of a sophisticated partnership between the legal and health professions and their organisations to jointly address the health and social circumstances which often manifest in the form of legal needs.
We allocated $2.6 million across eight HJP projects in 2014 and an additional three projects that received funding outside this round.
Health-Justice Partnership Development Report
Project Outcomes
Outcomes of projects funded through the Grants Program.
Legal Responses to One Punch Homicide in Victoria: Understanding the impact of law reform
This research project was the first to critically analyse whether Victorian homicide laws enabled a just response to one punch homicides prior to 2014 reforms.
The research findings by Kate Fitz-Gibbon of Monash University have contributed to improved understandings of the reforms required nationally to improve legal responses to alcohol-fuelled violence.
Combining in-depth interviews with case analysis, the research examines both the outcomes of the law (in terms of conviction and sentencing) as well as the process and practice of the law in reaching those outcomes.
Read report: 'Legal Responses to One Punch Homicide in Victoria: Understanding the impact of law reform' below
Sporting Change: A report by Springvale Monash Legal Service
In 2016 we provided a grant to Springvale Monash Legal Service (SMLS) to combine sport-based engagement strategies with legal education at Narre Warren South P-12 College. Their aim was to decrease young people having negative interactions with the justice system.
One hundred and fifty three young people from diverse cultural and socio-economic backgrounds attended sixty-three education sessions as part of the Sporting Change project.
Using sport as the framework for legal education, the young people were made aware of their legal rights and responsibilities, how to identify legal issues and where to seek help. To support this learning, a lawyer was embedded into the school's well-being team to provide professional legal education to the school community.
Sporting Change provided young people with an opportunity for peer-to-peer role modelling, making new friends, playing a new sport and authentic relationship development with SMLS staff, resulting in among many other things two participants with no prior knowledge of community legal services going on to undertake work experience at SMLS.
Some of their achievements and note-worthy outcomes include:
98% of participants reported that learning about legal rights and responsibilities had significantly and positively impacted their life.
94% reported increased knowledge of possible consequences if they or someone they knew got in trouble with the law.
93% reported a changed attitude towards Police, PSOs and other people in authority.
96% reported increased knowledge about where to get help with legal problems.
48 students were provided with legal advice from the school lawyer on issues including employment law, family law, bullying and immigration.
In 2018 we funded them to replicate this successful service at Cranbourne East Secondary College.
Read report: 'Sporting Change: Empowering Young People' below
Complex Communication Needs: A report by Federation University
Completed at the end of 2018, this two year research project was funded to identify strategies to assist justice agencies to enhance their response to people with complex communication needs (CCN).
The research participants included seven persons who identified as having CCN and four parent/advocates of people with CCN.
The emergent themes from their research "tell a story of frustration, disappointment, caution, a lack of understanding and knowledge about the communication of persons with CCN, negative assumptions and, at times, rejection."
The research provides examples of where, at best, the justice system has responded sensitively, empathetically and equitably, resulting in a positive experience for participants, irrespective of case outcome, and in contrast, the experiences of the majority of participants which have been negative.
A 93 page report on their findings has been published and includes ten recommendations to further inform the justice system response to persons with CCN have been drawn.
Read Report: 'Hear Us: The experience of people with Complex Communications Needs in accessing justice' below
Partners In Care: The Benefits of Community Lawyers Working in a Hospital Setting
A new report on the Cross-Site Evaluation of Health Justice Partnerships (HJPs) Between Three Metropolitan Melbourne Hospitals with Inner Melbourne Community Legal, Partners In Care: The Benefits of Community Lawyers Working In A Hospital Setting, is now available.
The Victorian Legal Services Board Grants Program invested significantly in supporting the sector to demonstrate the effectiveness of the HJP model and is very proud to have funded Inner Melbourne Community Legal's HJP with the Royal Women's. This report details the findings and methodology of Inner Melbourne Community Legal's HJPs with Royal Women's, Royal Melbourne and The Children's Hospital. The evaluation identified five essential requirements for CLC's to have successful HJPs with major metropolitan hospitals. It outlines the benefits of cooperation between community lawyers and health professionals in the coordination of care for vulnerable patients.
MABELS: It couldn't have come at a better time
This report is based on a literature review of how each of the health, family violence and legal sectors have defined early intervention. It also uses the experience, knowledge and best-practice skills developed through MABELS. Funded through the Victorian Legal Services Board Grants Program, MABELS is a Health Justice Partnership between ECLC, Boorndawan Willam Aboriginal Healing Service and two Victorian local government councils. The program, which began in early 2015, provides an opportunity for early intervention for women experiencing family violence.
"For me it couldn't have come at a better time. The information and support I received was really good, and really helped me through some dark days. I know it was one question that my MCH nurse had asked me, if she hadn't asked the question, I wouldn't have raised it. It was just something general like 'How are you doing?', but it made me realise it wasn't just about the baby."
– MABELS Client
Read this report for critical insights into shared leadership and integrated funding, early intervention family violence models and legal professional privilege.
Will somebody listen to me?
This report is the culmination of funding of $449,000 over three years provided through the Legal Services Board Grants Program in 2012 to target family violence in the Central Victorian Region. The project, run by Loddon Campaspe Community Legal Centre, has seen increased access by women to legal representation through an enhanced presence in regional courts in Bendigo, Echuca, Maryborough and the establishment of new services in Swan Hill and Kyneton as a result of the LSB funding.
The final report on the findings and recommendations of the project was officially released and launched on 5 May 2015 in Bendigo. This report outlines the experiences, suggestions and concerns of women who had or were experiencing family violence in Regional Victoria. The report comes in an abridged and detailed form which has been provided to decision-makers, media and community with pragmatic suggestions for change. 190 women participated in the survey that informs the report whilst 27 women consented to and participated in an in-depth interview. It was launched on the day that the Royal Commission into Family Violence was sitting in Bendigo.
JobVoice
The Social Security Online project from Social Security Rights Victoria was funded to establish an online portal which responds to an unmet need for job seekers to voice about their experience with Employment Service Providers. Their JobVoice website has won the National Rural Law and Justice Award 2015 for Transformative Use of Technology in the Law which was announced in July at the annual National Rural Law and Justice Conference.
For more detail of the project, please visit the Social Security Rights Victoria website.
See also the JobVoice website.
Advancing Community Justice
Creating fairer outcomes through law reform and policy work is a project that conducts proactive law reform and policy work in the key areas of civil justice, police accountability and family violence.
The project, undertaken by the Federation of Community Legal Centres secured funding from the Legal Services Board's grants program in 2011, and aimed to develop a better and fairer legal system by conducting proactive law reform and policy work in three key areas of civil justice, police accountability and family violence. In addition, it also aimed to develop a resource and a training program to help community legal centres and other non-government organisations conduct effective law reform and policy work.
A web-based, The Change Toolkit, was published in February 2015 which provides CLCs and NGOs a lasting resource to identify systemic issues affecting their clients.
The Report – Tracking Protective Services Officers: Insights from the first three year, was published in June 2015 has informed commuters about their rights with respect to Protective Services Officers.
For details on The Change Toolkit, please visit the Change Tooklit website.
Making the law work better for people affected by cancer
The McCabe Centre for Law and Cancer, supported by a Legal Services Board grants program in 2012, commenced a project on legal issues for people affected by cancer. The Centre undertook consultation across regional and metropolitan Victoria on these areas: Financial support for transport and accommodation for cancer patients and carers in regional areas; Employment, including discrimination, access to workplace rights and returning to work; Discrimination in insurance; and Decision making at the end-of-life.
The first report titled Making the law work better for people affected by cancer which includes recommendations for law reform around the legal focus areas in March 2014, the second report was released in March 2015. This report built on their earlier one and examines two further topics: informed consent to cancer treatment, including informed financial consent, and the regulation of unregistered complementary and alternative medicine practitioners.
For full details on the reports, click on the links to download the first Report and second report or visit the McCabe Centre website.
Legal and Health alliances
Linda Gyorki, Senior Project Manager & Lawyer, Inner Melbourne Community Legal, was fortunate to receive a Churchill Fellowship to study Advocacy Health Alliances in 3 countries. Her report– Breaking down the silos: Overcoming the Practical and Ethical Barriers of Integrating Legal Assistance into a Health Setting, is now available.
'It is hoped that this report will act as a catalyst for the establishment of partnerships between legal services and health-care institutions in increasingly diverse contexts.' Linda Gyorki.
The report can be obtained from the Churchill Trust website.
Acting on the warning signs
This is the pioneering Advocacy-Health Alliance partnership between Inner Melbourne Community Legal and the Royal Women's Hospital, originally funded in 2011 to reduce violence against women.
The evaluation of the first stage of the project has been undertaken by Melbourne University and the report was published in August 2014. Findings indicate that the project has built capacity, confidence and willingness of health professionals to identify and act on signs of family violence and established a strong organisational foundation at the hospital to address violence against women.
For detail of the project, please visit the Inner Melbourne Community Health website.
Shining a light on law and markets in private land conservation
In 2014 the Trust for Nature completed two reports funded by the Victorian Legal Services Board examining environmental markets.
Shining a Light on Law and Markets in Private Land Conservation: Insights and Issues from Victorian Landowners
Land-Based Environmental Markets and the Law: the evolving legal landscape underpinning ecosystem services markets in Victoria
The project partnered with Victoria Naturally Alliance and aims to gain a better understanding of market- based mechanisms to promote private land conservation as well as addressing a perceived information gap in understanding the legal and financial aspects from a landowner's perspective.
For details of the report and project, please visit the Trust for Nature website.
Self-represented people at the Family Law Courts
Being at Court for the Final Hearing of a family law case can be overwhelming. In order to provide some of the basic information you need to know about how a day is likely to proceed and what you need to do, Court Network has produced A Resource Booklet as part of an enhanced program at the Family Law Courts.
Court Network provides information, support and referral service to people when they are at Court. This booklet supports an expanded service for people who are attending a Final Hearing of a family law dispute, but who don't have a lawyer.
This service, funded through a 2013 Major Grant, provides more intensive support and for longer than the regular Court Network services.
For detail of the booklet, please visit the Court Network website.
Mental health and the legal profession
There has been growing awareness in the Australian legal profession since 2007 that lawyers are more likely than the general population to experience depression and anxiety. In late 2011, the LIV obtained funding for the Legal Services Board Grants program for the Mental Health and the Legal Profession project in order to: (1)operate a pilot health and wellbeing service providing independent and confidential services for lawyers;
(2) undertake a literature review on lawyer personality traits and the susceptibilities toward particular forms of psychological distress; and (3)scope out options for an ongoing lawyers' health program.
Following a period of research and consultation, the project has now come to an end and the LIV launched a report on the findings on 9 September 2014. The mental health report sets out detailed proposals for the introduction of a preventative health and wellbeing strategy for the Victorian legal community.
For details of the full report, please visit the Law Institute of Victoria website
Other reports
The following reports on previously funded Grants projects are available for download: