Commissioner update 
We're nearly half way through this strange year and while some Covid-19 restrictions have been lifted, the VLSB+C continues to support the Victorian Government's efforts to contain the virus by working from home. The Premier has advised that the Chief Health Officer's directive includes the requirement that if you can work from home you must continue to do so. This directive applies to legal workplaces and I know many lawyers and law firms have responded to this and are working from home. Many of you have found there have been benefits to this. I think it is likely that the flexible work practices we have all learned over these last months will be a positive and lasting change to the way we practice, benefitting clients and lawyers alike.

This is the busiest time of year for our enquiries and review team who manage the practising certificate renewals process. Already more than 19,000 of you have applied to renew, and the team are working hard to process these applications. With Covid-19 and our teams working from home there are some delays in processing applications. If your certificate is pending, please be patient. If you have a current practising certificate (2019/20 year) and have paid your fees and insurance, you can continue to practice on that current certificate until your new certificate is issued. There is no need to contact us to confirm the status of your practising certificate. PCs for the new financial year will be issued as soon as possible.

We have had an enthusiastic response to the email we sent last Monday, asking for your contributions to our Continuing Professional Development (CPD) review. I encourage you to take the time to let us know your thoughts. You can complete the consultation questions, or participate in a focus group with our independent consultant, Chris Humphreys. CPD is fundamental for maintaining and enriching the quality of services delivered by lawyers to the Victorian community, and this review will provide recommendations to improve how we conduct CPD in Victoria.

While many of us are still working from home and unable to meet face-to-face, we have again decided to remove the cap of 5 hours for completing CPD points via private study. You can read more information on this below.

Finally, we have been working on a number of new projects to support you, including issuing a new regulatory guideline into lawyer conduct in providing information to the police, as well as implementing a new initiative to make our decision-making more transparent – the issuing of operational directives.

More details about each of these is provided below.

In this issue:
New regulatory guideline on lawyer conduct in providing information to police
Launch of a new initiative - operational directives
Changes to CPD points for 2020/21 practising year
Leasing advice from the Victorian Small Business Commission
Be well,
Fiona McLeay
Board CEO + Commissioner
Regulatory guideline – Lawyer conduct in providing information to police

The Royal Commission into the Management of Police Informants has highlighted the need for guidance on what is acceptable conduct for lawyers when dealing with clients and their associates, and when it is appropriate and ethical for lawyers to provide information to the police.

Our new regulatory guideline addresses some of the concerns about lawyer conduct raised during the course of the Royal Commission. It is not a detailed list of what you can and can't do. Instead it provides a reminder about your role within the legal system, broad guidance on your duties and obligations, and practical information to help you maintain professional independence and avoid conflicts of interest. It sets out our views on what information is and is not appropriate to share with the police, in certain scenarios.

The guideline is available on our website, and we encourage you to read this and share it within your networks.  We also encourage anyone who witnesses behaviour that doesn't meet our shared standards of ethics to get in contact and let us know. Information can be provided confidentially.

Read the new regulatory guideline here.
New initiative: operational directives 
As part of our strategy 'A clear direction', we aim to be Independent, transparent and fair in our processes and decision-making. A new initiative, operational directives, has been launched to provide you with information about how we exercise our discretion in making certain decisions. The first operational directive provides guidance on when we will issue proceedings against a lawyer at the Victorian Civil and Administrative Tribunal under section 300 of the Uniform Law. You can view the section 300 operational directive on our website.

We will be publishing more operational directives across the year, with the next one covering Commissioner initiated complaints.
Changes to CPD points for 2020/21

Due to the restrictions put in place as a result of Covid-19, for the 2019/20 practising year lawyers were able to complete all 10 CPD points via private study, if they were unable to complete their points via other methods.

While many in the Victorian profession remain working from home, and while face-to-face events are still unavailable, we have decided to again remove the cap on private study for the current practising year. Other caps still apply, so please see the table below.

Alternatively, the Law Institute of Victoria Accreditation Specialisation program can be completed as part of your CPD for a total of 10 points. The program accredits more than 1,000 specialists across 16 areas of law and allows lawyers to be recognised as having an enhanced skill level and experience in their area of law. Lawyers need to demonstrate superior knowledge, experience and proficiency in a particular area of law to become an accredited specialist, and need to maintain their accreditation.
| | | |
| --- | --- | --- |
| Activity | Units of Activity | Limits that Apply |
| Participate in a lecture, seminar, workshop or discussion group | 1 unit per hour of activity | No limits |
| Research, prepare and/or edit a legal article | 1 unit per 1,000 words | No more than 5 CPD units per year |
| Prepare and/or present CPD activity | 1 unit per hour of activity | No more than 5 CPD units per year |
| Be a member of a legal committee, taskforce or practice section | 1 unit per 2 hours of activity | No more than 3 CPD units per year |
| Postgraduate studies | 1 unit per hour of activity | No limits |
| Private study of audio/visual materials or other educational activities | 1 unit per hour of activity | No limits |
Leasing advice – from the Victorian Small Business Commission

To ease financial hardship faced by some tenants and landlords as a result of the coronavirus (COVID-19) pandemic, the Victorian Government has introduced the Commercial Tenancy Relief Scheme.

The regulations for the Scheme have been made under the COVID-19 Omnibus (Emergency Measures) Act 2020. Under the Scheme, the Victorian Small Business Commission (VSBC) is providing commercial tenants and landlords with access to free mediation to support fair tenancy negotiations.

Visit the VSBC's website to: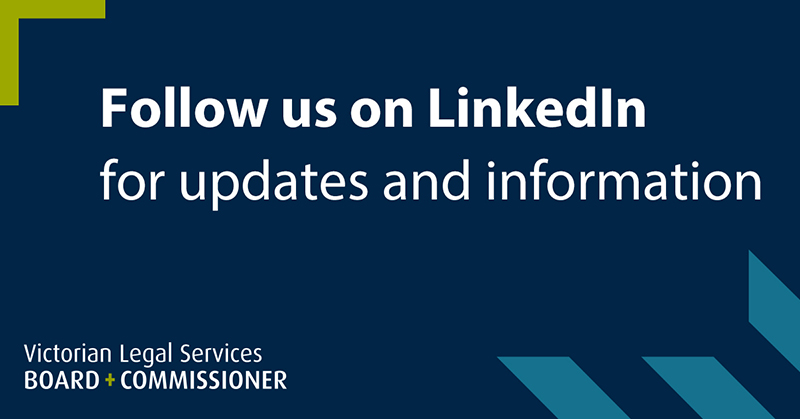 Follow us on LinkedIn for updates and information