Commissioner update
In this edition
Message from the Commissioner
Renew your practising certificate
New CPD year – what to consider
End of trust year
Protect your business from cybercrime
Workplace culture survey – early results
Justice Connect – Joining Up Justice website launched
General trust accounts – banks re-signed for five years
LPLC's Professional Indemnity Insurance portal is now open
LIV member renewals
Winter is nearly here, it's the end of the trust year and we're over half way through the practising certificate renewal period for 2021/22. So far we have received over 17,000 practising certificate renewals and the team are working hard to process these. If you haven't yet renewed, you have until 30 June to submit your application and make payment.

For those of you that have completed your practising certificate renewal, you will have seen a link to a voluntary workplace culture survey. Early results show that for nearly three quarters of lawyers who completed the survey, their workplace culture has a more positive than negative impact on their overall wellbeing. Supportive colleagues, flexible working arrangements and having a reasonable work-life balance were all factors that people cited when thinking about a positive workplace. This is a very pleasing result. We will release the full results of the survey when the renewal period has closed. If you haven't yet completed the survey you can do this via the link in the article below.

The Royal Commission into the Management of Police Informants (RCMPI) final report highlighted the importance of ethics education for upholding the public's trust and confidence in lawyers, and recommended that we issue clear guidance about how legal ethics education should be embedded in the compulsory CPD fields, including through practical scenario-based learning.  This recommendation aligns well with our 'Getting the Point' independent report into CPD in Victoria which also identified many opportunities to improve the delivery, availability and quality of ethics CPD sessions.

We have just released new guidance for CPD providers to respond to the Royal Commission recommendation, help strengthen legal ethics education and underline its importance across all areas of legal practice. While the guide is for CPD providers, it contains valuable information that will assist you in choosing the most useful ethics CPD for your role and development needs. You can read the guide, along with some tips for planning your CPD below.

We have been working closely with the government and stakeholders, including the LIV and the Victorian Bar, on the implementation of the RCMPI's other recommendations. On 1 July we will resume handling complaints and investigations of barristers.

Be well,
Fiona McLeay
Board CEO + Commissioner
Renew your practising certificate before 30 June
So far over 17,000 lawyers have applied to renew their practising certificate and we are working hard to process all the renewals received.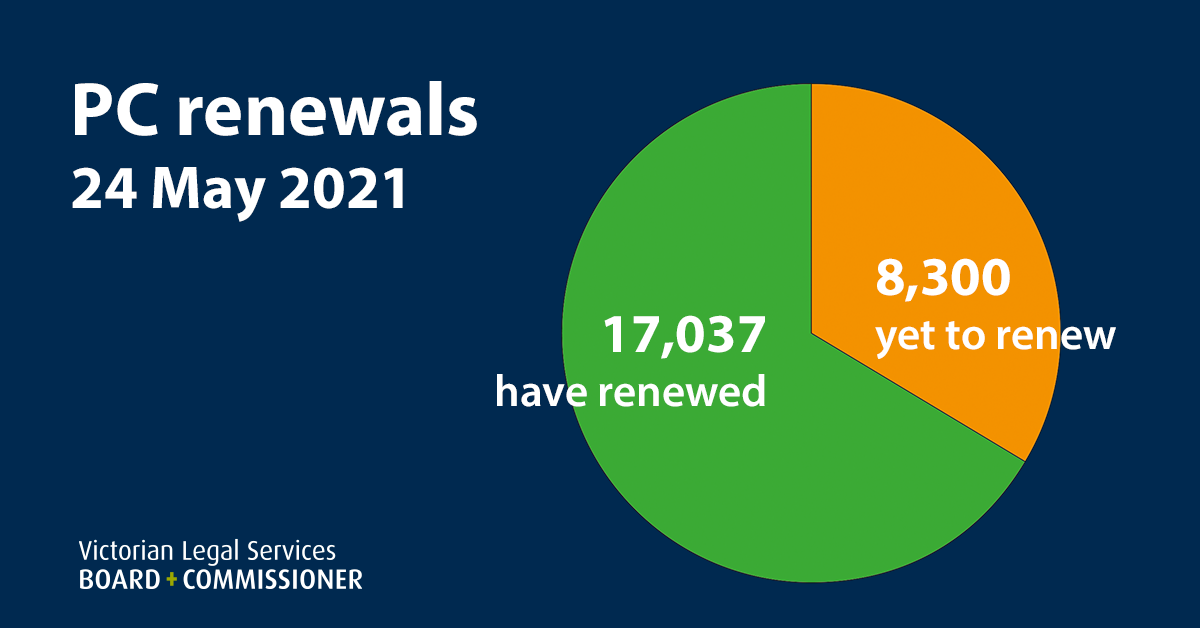 Certificate pending?
Once you have applied to renew it can take anywhere from a few days to a few months to issue a new certificate. Reasons your certificate might be pending include:

you have not complied with CPD requirements
the trust account audit process is not complete
your professional indemnity insurance payment is outstanding or
we are assessing disclosures made in the application process.

If there were no changes to your practising certificate type, and you have paid your fees and any applicable insurance, you can continue to practise on your current certificate until a new one is issued – even after 30 June.
 
Haven't renewed yet and not sure what to do?
We have developed a range of resources to help you renew, including step-by-step guides, videos and frequently asked questions. Before sending your question to us, check that it hasn't already been answered. 
 
Not renewing?
You need to let us know if you are not renewing. Please log into LSB Online and click 'Practising certificates' and 'Not renewing your practising certificate' to let us know. This will remove you from our reminder list.
 
Paying by BPAY?  
Make sure you have left enough time for the payment to process before 30 June. Payment needs to be received by 30 June for your renewal application to be processed.
 
Left your application in draft?
If your application isn't submitted by 30 June your draft will be deleted and you will have to apply for a new practising certificate. You'll also have to pay the 200% surcharge and won't be able to practise until your new certificate is issued.
 
Are you subject to a Supervised Legal Practice (SLP) condition?
If you want to have your SLP condition removed, to avoid delays in processing your practising certificate renewal you should: You will be notified when your condition has been removed and the condition will no longer appear on your practising certificate.
 

New CPD year – what to consider
The new continuing professional development (CPD) year commenced on 1 April and you should be starting to consider how you will meet your education and professional development needs.

We have developed a guide for CPD providers to help strengthen legal ethics education and underline its importance across all CPD subject streams. While the guide is for CPD providers, it contains valuable information that will assist you in choosing the most useful ethics CPD for your role and development needs. You can download the new guide for CPD providers here.

There are also important changes to the CPD requirements for the 2021/22 practising year. You can read more about these changes, find out about the subject areas we consider important for all lawyers to focus on this year, find tips on how to make the most from your CPD, and be updated on progress with how we plan to implement our Getting the Point review here.
End of trust year
The trust year ended on 30 April. All lawyers with trust authorisation and barristers' clerks should have submitted the Part A and Part B forms in LSB Online by now. If you have not submitted these forms, LSB Online is still open for you to submit as soon as possible.

Find out more about end of trust year here.
Multi-factor authentication – Protecting your business from cybercrime
We have seen an increasing number of cyber-attacks on lawyers recently, intensified while businesses adjusted to remote working.

One of the simplest and effective measures lawyers can take to prevent harm is to 'shut the front door' by installing multi-factor authentication. Microsoft estimate multi-factor authentication can block over 99.9 percent of account compromise attacks.

Multi-factor authentication involves using two or more types of authentication to log in - for example, traditional passwords are supplemented with a one-time password sent to the user's mobile phone.

Installing multi-factor authentication helps to:
secure against identity theft
protect against weak employee passwords
mitigate the use of unmanaged devices
enable your other security measures to do their job
More information about multi-factor authentication is available on LPLC's website
Workplace culture survey
We are inviting all Victorian lawyers to complete an optional short survey on their workplace culture. You'll be invited to complete the survey online once you've submitted your practising certificate renewal application, or you can click here to complete the survey now.

Early results from the approximately 540 legal professionals who have already completed the survey, reveal: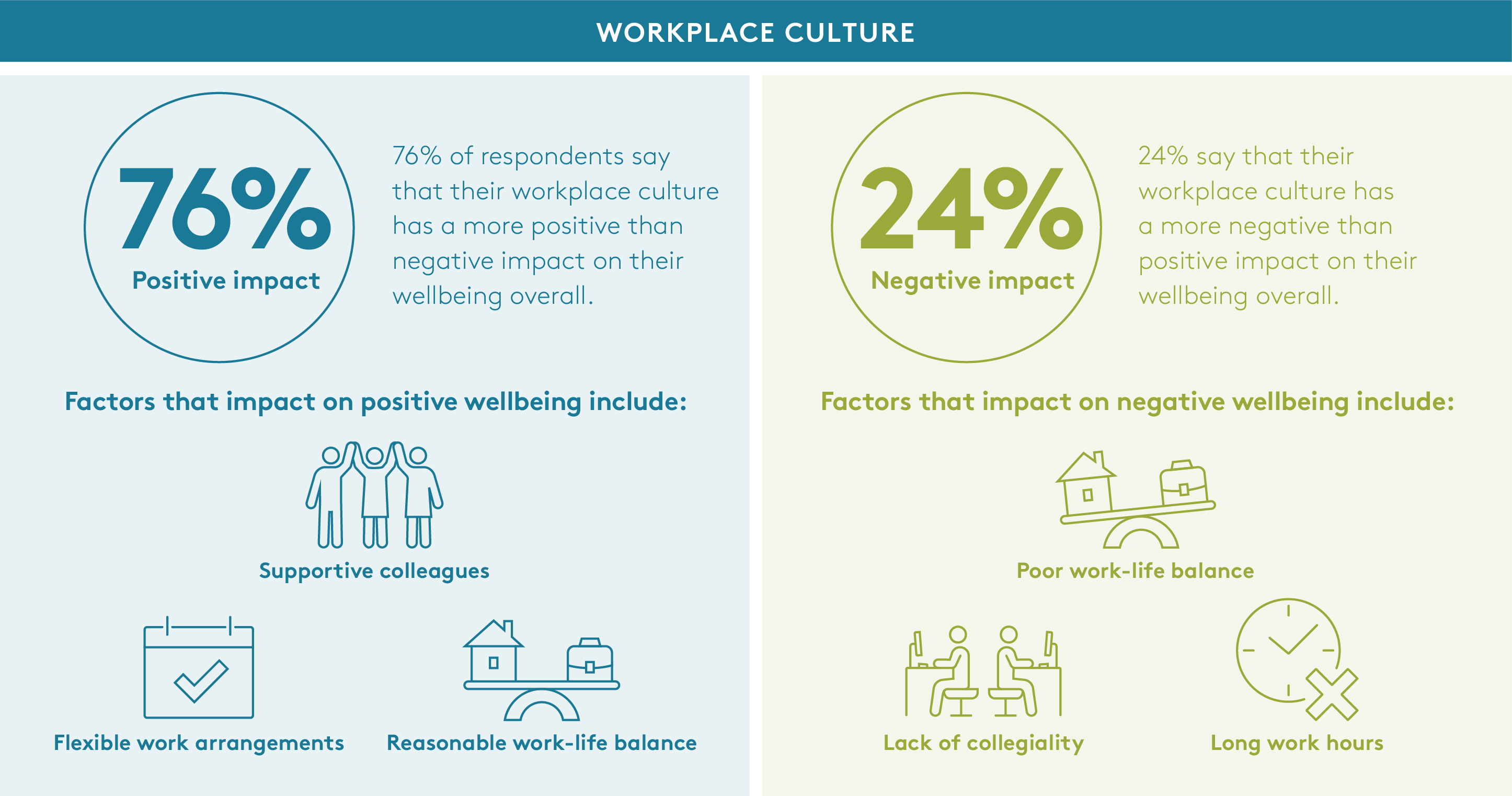 76% of respondents say that their workplace culture has a more positive than negative impact on their wellbeing overall, with the most commonly cited factors being: supportive colleagues, flexible work arrangements, and a reasonable work-life balance.
Conversely, for the 24% of respondents who say that their workplace culture has a more negative than positive impact on their wellbeing overall, the most commonly cited reasons are: poor work-life balance, lack of collegiality, long work hours, a hyper-critical culture and unreasonable workload
Almost 90% of respondents agree that people who see or hear about sexual harassment (bystanders) should take some kind of action in response, although only 55% of respondents said that their workplace encourages bystanders to take action.   
Just over half of respondents (54%) indicated that they would be comfortable reporting sexual harassment by a colleague through internal workplace channels, while fewer than half (48%) said they'd be comfortable reporting sexual harassment by a supervisor, manager or partner internally. Respondents aged under 40 were less likely than respondents aged over 40 to feel comfortable reporting sexual harassment by a colleague, or a manager, supervisor or partner via internal processes.  
To share your views now, click on the link below, or keep your eyes out for the link once you've submitted your practising certificate renewal application online. Responses are non-identifiable and strictly confidential. 
Justice Connect – Joining Up Justice website launched
Since 2016, Justice Connect has been researching the experience of people in Australia looking for legal help, and the experience of legal services delivering help. They spoke directly with hundreds of legal help-seekers and workshopped with many community legal centres, legal aid providers and referring agencies.

Their research found that for help-seekers, looking for legal help is hard, confusing and demoralising. And for service-providers, connecting with help-seekers, handling enquiries, getting the word out, and reducing the referral roundabout is a constant challenge.

Their new website, Joining Up Justice, summarises this research and sets out some of the opportunities to improve the issues identified. It presents and maps the experience of looking for help from the perspective of both a help-seeker and a legal service provider.
General trust accounts – banks re-signed for five years
Last month we finalised new banking contracts with banks who are authorised to open general trust accounts for lawyers.

The six banks that we re-signed were the CBA, NAB, ANZ, Macquarie, Bendigo and the Westpac group (incorporating St George and the Bank of Melbourne).

This has meant that there has been no disruption in the banking arrangements for the vast majority of law practices.

The new agreements are the culmination of a comprehensive and rigorous process to review the existing banking arrangements. It continues our relationship with the banks but enables us to get the best result for Victorian law practices and the wider Victorian community.

The new contracts deliver long-term stability for Victorian law practices, and will be in effect for 5 years. We also have the discretion to extend the contracts twice for a period of 2 years.

We also worked with the Law Society of New South Wales to develop the initial request for proposal document that was issued to each bank. Both the VLSB+C and the Law Society signed different contracts with the banks that reflect the needs of their respective jurisdictions.
LPLC's Professional Indemnity Insurance portal is now open
The LPLC Professional Indemnity (PI) Insurance portal is now open for processing renewals for private law practices.

Those responsible for renewing their law practice PI insurance will have received their email advice to renew. If you are one of those and you haven't yet received an email from LPLC, please check your spam, and if not received please contact LPLC via renewals@lplc.com.au

Remember your new practising certificate cannot be issued without current PI Insurance.
LIV Membership Renewals
The Law Institute of Victoria (LIV) has played a crucial role helping the profession navigate the challenges presented by the pandemic, while also representing members and the broader profession at all levels of government. 

If you are currently a member of the LIV, membership renewal is due by 30 June 2021. Member services include:
Expert guidance and support (including ethics and practice management)
Professional development and connections
Critical news and information via the Law Institute Journal (LIJ), daily LawNews emails and the COVID-19 Hub
Influence and reach.
 As we have seen throughout these challenging times, the profession is stronger together and partnering with the LIV helps you thrive in an ever-changing professional landscape.

You can renew your membership or become a new member by visiting www.liv.asn.au/membership.